We are a factory based in Shanghai, China. We have 1600 Pallet lots,3 warehouse,1 Staff office. It is about 15min drive from PVG airport to our factory, very convenient to visit. We will have a factory outside of China in order to offset the tariff war between USA and China. We are setting up a factory in Vietnam, it will be ready for production in 2021. Same as the factory in Shanghai, the factory will be a modern factory.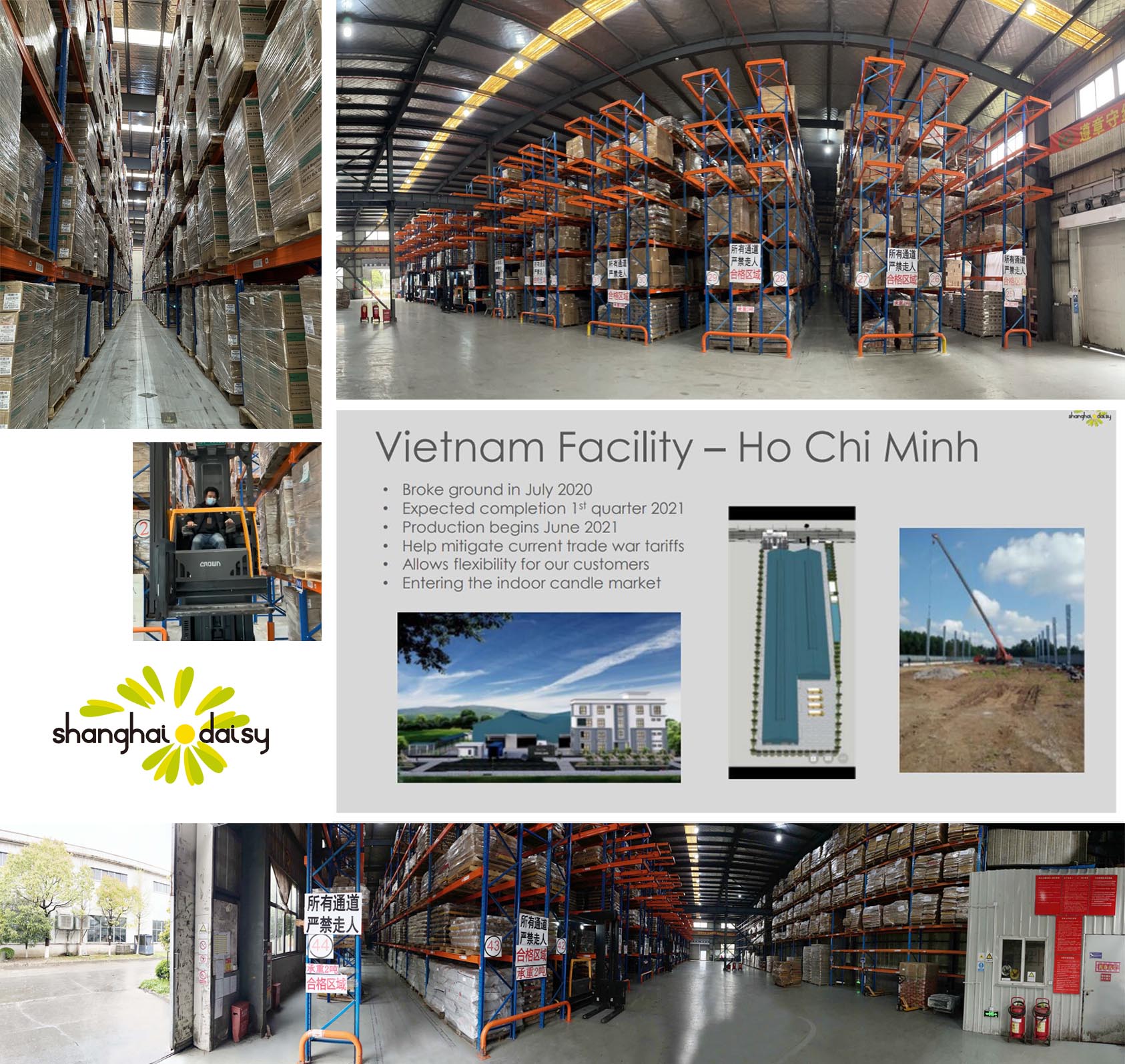 We have rich experience on factory audit, we do more than 15 factory audits every year according to different standard. Currently, we are holding reports like BSCI, SEMETA, ISO90001, WCA, C-TPAT, SCS, COC and many other reports based on retailers requirement. Huge capacity & good quality makes us differentiate from other traditional factories. Our factory equiped with a lot of modern machines like automatic wax filling machine, automatic foam wax machine, automatic labelling machine and so on, rely on those machines, we can produce 100k candles a day. We also have professional QC team, each candle are being produced under supervision.

Costco's full English name of quality and technology inspection is: softline / textile factory GMP audit, referred to as GMP inspection. GMP is the abbreviation of good manufacturing practice, which means "good manufacturing practice" in Chinese. GMP requires enterprises to meet the requirements of hygienic quality in terms of raw materials, personnel, facilities and equipment, production process, packaging and transportation, quality control, etc. according to the relevant national regulations, a set of operational operation specifications should be formed to help enterprises improve the hygienic environment, find out the problems existing in the production process in time, and improve them. It is required that the production enterprises should have good production equipment, reasonable production process, perfect quality management and strict detection system to ensure that the final product quality meets the requirements of laws and regulations.

Shanghai Daisy conducted a Costco GMP audit on April 25, 2021. Now let's take a look at some pictures of our factory + warehouse + workshop + product here.
Our Warehouse:
Our Workshop :
Our Product:
You can also see more clear Picture : Here
GMP will:
(1) Pre validation or retrospective validation of key processes;
(2) Process specification and investigation on applicability of conventional production; Ensure that raw materials and equipment can produce products that meet the quality requirements;
(3) The system, equipment, computer, process, production environment, utilities and instruments shall be confirmed according to the approved installation confirmation scheme;
(4) Regular monitoring, preventive maintenance and correction / inspection shall be carried out for key systems and equipment, and relevant records shall be kept. All instruments should be listed in the cleaning verification scheme for verification;
(5) As built drawings of plants, facilities and various systems shall be accurate and updated in time;
(6) Whether the operation process is standardized, and the personnel should be properly trained;
(7) Complete verification documents are available; The documents shall also meet the requirements of safety, reliability and traceability.
Benefits of passing Costco quality inspection:
(1) The establishment of a management system in line with international requirements can gain international recognition and increase the ability to compete positively with well-known brands;
(2) Promote consumers to establish positive emotion for products;
(3) Firm cooperation with purchasers and broaden new markets to lay a solid foundation for long-term development;
(4) Improve the management system, improve the relationship with employees, so as to improve productivity and profit;
(5) Minimize potential business risks, such as industrial injury or even death, legal proceedings or loss of orders;
(6) Developing new markets and customers: socially responsible companies will stand out from their competitors.
You Can also watch Video Here: Daisy Company + Workshops and Forklifts
Welcome to our factory!